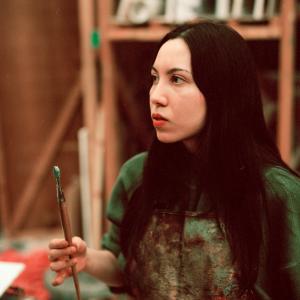 Olivia Di Gregorio
Artist member since 2019
Toronto, Ontario
Olivia Di Gregorio is an emerging Canadian artist with a mixed background of Chinese and Italian heritage. She recently graduated from OCAD University with a bachelors in illustration and a minor in drawing and painting. During her time at OCAD, she won two awards in the fine arts from Creative Quarterly, as well as cofounded and coordinated the institution's first figurative painting group in 40 years. She taught students the principles of painting, managed group sessions with models, acquired studio space and props, as well as designed the session's light and compositional environment.
In May, Di Gregorio collaborated with the University of Toronto on an Art History Exhibition that accompanied a discussion on the relevance of art history in the contemporary world. Her work was featured along with a number of other published painters, and was displayed in the Intaglio Art Journal's online publication. This October, she will be an exhibiting artist in the Gladestone Hotel's annual show, 'Why The @#&! Do You Paint?', where concepts about painting are focused upon and made the theme of the work.
Olivia Di Gregorio visits expressions about femininity, childhood, and melancholy in oil painted subjects, integrating contemporary ideals and identities into a classic mythological framework. Her major inspirations are derived from exploring relationships between personal writings, reflections on inclusive ideologies, the concept of creating worlds in one's own visual language, and the historical process of painting.
Upcoming Exhibitions
2019-10-10
The Gladestone Hotel, Toronto
Why The @#&! Do You Paint?
2019-10-11
Beaver Hall Gallery, Toronto
Transformation: Witchfest North 2019 Art Exhibition
Select Past Exhibitions
2019
Women's Art Council of Canada, Toronto
EXUBERANT: Presented by WAAC and OCAD University
2019
Hart House, University of Toronto, Toronto
Art History Matters
2019
OCAD U, Toronto
GradEx 104
2019
Our Gallery, Toronto
Personnes: 2019 Figure Show
2018
Artscape Youngplace, Toronto
OCAD U Illustrative Drawing and Painting Exhibition
Accolades
2018
Creative Quarterly
CQ52, Fine Art, Student category
2018
Creative Quarterly
CQ50, Fine Art, Student category
Press
2019
Intaglio: University of Toronto Art Journal
Exhibition Programme 1
2018
Cross Process
Issue 2
Education
2019
Ontario College of Art and Design University
Illustration
SHARE THIS ARTIST