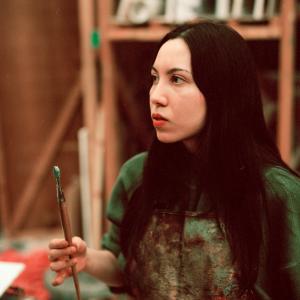 Olivia Di Gregorio
Olivia Di Gregorio is an emerging Canadian artist with a mixed background of Chinese and Italian heritage. She recently graduated from OCAD University with a bachelors in illustration and a minor in drawing and painting. During her time at OCAD, she won two awards in the fine arts from Creative Quarterly, as well as cofounded and coordinated the institution's first figurative painting group in 40 years. She taught students the principles of painting, managed group sessions with models, acquired studio space and props, as well as designed the session's light and compositional environment.
In 2019, Di Gregorio collaborated with the University of Toronto on an Art History Exhibition that accompanied a discussion on the relevance of art history in the contemporary world. Her work was featured along with a number of other published painters, and was displayed in the Intaglio Art Journal's online publication. She later exhibited in the Gladstone Hotel's annual show, 'Why The @#&! Do You Paint?', where concepts about painting are focused upon and made the theme of the work. She has also been selected for Artist Project 2020 in the Untapped category and will be exhibiting a collection of her work from this year in late February.
Olivia Di Gregorio visits expressions about femininity, childhood, and melancholy in oil painted subjects, integrating contemporary ideals and identities into a classic mythological framework. Her major inspirations are derived from exploring relationships between personal writings, reflections on inclusive ideologies, the concept of creating worlds in one's own visual language, and the historical process of painting.
---
Favourite book
Tracy Chevalier's 'The Lady and the Unicorn'. Such a beautiful book, though in general, all her books might be my favourite.
Favourite musical artist / band right now
'Worlds', by Porter Robinson, makes me imagine magical lands, and relates to people's moments of isolation; a theme I feel a kinship to.
What artists do you admire right now?
One constance for me is my admiration of the Pre-Raphaelites and masters, some of them being J.W. Waterhouse, Anthony Van Dyke, Thomas Lawrence, J.S. Sargent, J.E. Millais, and most recently, Julian Onderdonk.
Why is art important to you?
The communication aspect of images feels so essential to me because of its ability to relate what I experience. A feeling is so easily shared in a painting, and though it might be vague, it is up to you to determine what its relationship to you is. In making art, I sometimes feel like its within my paintings that I can be most sincere, and talk about secrets I wouldn't like to openly share.
What kind of artwork do you have in your home?
Prints from my peers, with etchings and even smaller prints from artists I highly admire. Keeping precious works close inspires me constantly, and sometimes, you can even sense some of the energy the artist had in that moment, and it can transfer over to your own work in some communicative way.
How long have you been creating art?
As of yet, I've been seriously painting with oils for 5 years.
Select Past Exhibitions
2019
2019
2019
2019
2019
2019
2018
What do you mean, "try"?
Try-before-you-buy with a 3 month rental. 100% of your rental payments go towards the purchase (interest free). Message the artist directly, and start the conversation.
---
Art made (truly) affordable
We make it easy for you to try art with smart payment plans and try-before-you-buy models.
See How It Works
---
You're covered.
Artwork protection is included on all art rentals up to $10K. Our Customer Care team is always here to help.
Contact Us
---
Unlock Trade Access
For industries including interior design, film/TV production, & real estate staging: rent original pieces that fit with your project vision, budget and timeline.
Apply for Trade Access
---
1% from every transaction goes towards a Canadian arts nonprofit.